| | |
| --- | --- |
| Serves 4 | prep: 10 mins Cook: 10 mins |
Ingredients:
300g Tortellini Pasta
1 Tbsp Olive Oil
150g Mushrooms, sliced
Freshly grated nutmeg
3 Large eggs
100ml Double cream
50g Grated Ilchester cheese with truffle
Salt
Ground black pepper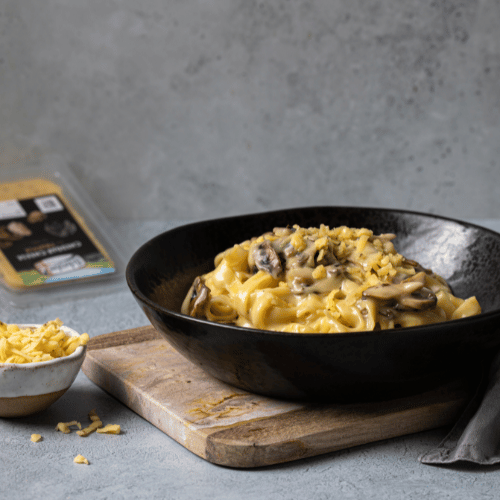 How to make
Bring a pan of salted water to the boil and cook the pasta for 10-12 mins or until al dente.
Heat a non-stick frying pan, add the oil and mushrooms and sauté for 3-4 mins or until the mushrooms are golden. Remove from the heat and season well with salt and pepper.
Beat the eggs with the cream, half the cheese, seasoning, and nutmeg.
Drain the pasta in a colander, return to the pan, stir in the egg mixture, and combine well. The mixture will thicken as the heat from the pasta 'cooks' it.
Stir in the sliced mushrooms.
Divide between bowls and sprinkle over the remaining cheese, serve immediately.