Wensleydale with Mango & Ginger Burgers
| | |
| --- | --- |
| makes 4 | prep: 20 mins   cook: relish 45 mins burgers 10 mins |
Ingredients:
600g minced pork
150g Ilchester® Wensleydale with Mango & Ginger cheese
2 tablespoons chopped chives
Salt and freshly ground black pepper
2 tablespoons rapeseed oil
1 tablespoon soy sauce
4 burger buns (optional)
For the tomato relish:
450g vine-ripened tomatoes, quartered
1 small red onion, finely chopped
1 stick celery, finely chopped
1 red chilli, seeded and chopped
4 tablespoons red wine vinegar
50g soft light brown sugar
1 tsp paprika
1 tsp white mustard seeds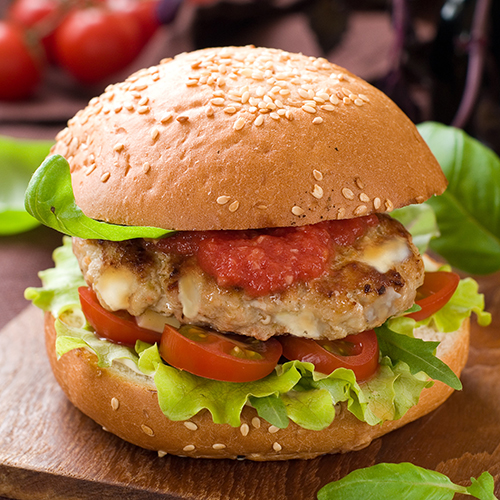 How to make
To make the relish: Put the chopped tomatoes, onion, celery, chilli, red wine vinegar and sugar into a saucepan. Bring slowly to the boil, cover and simmer for 30 minutes. Stir in the paprika and mustard seeds and cook uncovered for a further 15 minutes, stirring until the mixture looks jammy. Allow to cool.
Put the minced pork into a large bowl, crumble in the Wensleydale with mango & ginger cheese, add the chives and season with salt and pepper. Using your hands mix together to make sure the cheese is evenly distributed. Divide into four and with wet hands shape into patties.
Mix the oil and soy sauce and brush the burgers on both sides. In a grill pan or BBQ cook burgers on one side for 5 minutes, turn over, then brush with any left over glaze and cook for a further 5 minutes.
If using the burger buns, cut in half and toast under a grill or in a toaster,
To serve place some salad leaves on the base of the buns, top with the burgers, add a dollop of relish on top of each, then finish with bun lids.