Double Gloucester Stuffed Red Peppers
| | |
| --- | --- |
| makes 2 | prep: 20 mins   cook: 35 mins |
Ingredients:
2 red peppers
110g Ilchester® Double Gloucester cheese, grated
175g cooked long grain rice
5 spring onions, finely chopped
3 tablespoons single cream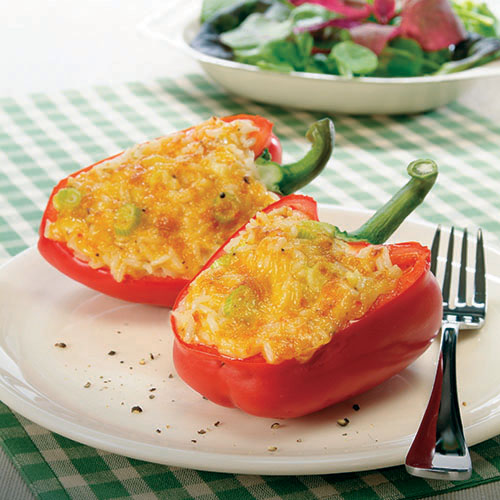 How to make
Preheat the oven 180°C/350°F/Gas Mark 4/Fan 170°C.
Cut the peppers in half, lengthways and remove the seeds and any core fibres.
In a bowl combine 90g of the Double Gloucester grated cheese with the remaining ingredients.
Fill the peppers with the cheese mixture and place on a deep baking tray or ovenproof dish.
Sprinkle the remaining cheese over the stuffed peppers. Cover the tray/dish with foil and place in the centre of the preheated oven and bake for 20 minutes.
After 20 minutes remove the foil and bake for a further 15 minutes, or until the peppers are tender and the filling is golden brown.
Serve immediately with a crisp mixed salad.
Tip: If the peppers roll on the baking tray, line it with scrunched up foil which you have formed into Small wells, this will stop them moving and save you washing up!