Luxury Fish Pie with Applewood® Topping
| | |
| --- | --- |
| serves 4 | prep: 35 mins   cook: 25-30 mins |
Ingredients:
750g mixed fish, skinned and boneless (e.g. coley, pollock, smoked haddock, cod, salmon)
140g raw tiger prawns
2 tbsp fresh parsley, chopped
1 heaped tsp of salted capers, rinsed and drained (optional)
3 cornichons (baby gherkins), chopped (optional)
For the sauce:
250ml milk
1 tbsp plain flour
30g butter
75g Applewood®, grated
Salt and freshly ground black pepper
For the topping:
600g floury potatoes, e.g. Desiree or Maris Piper, peeled
75g Applewood®, grated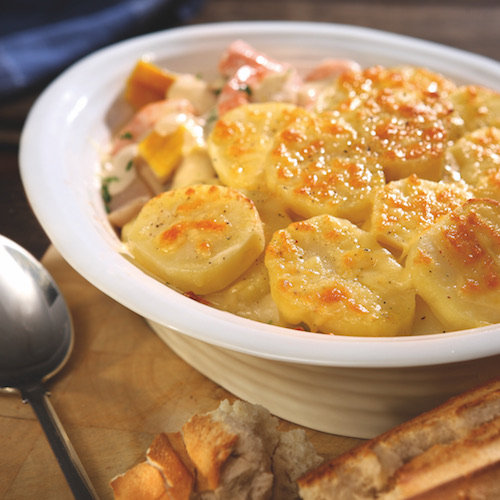 How to make
Preheat oven to 200°C/180°C Fan/Gas Mark 6. Peel and cut the potatoes in half and simmer in salted water until just tender.
Meanwhile make the cheese sauce. Pour cold milk into a small pan, add flour and butter, heat gently stirring continuously until the sauce thickens. Add the Applewood®, season and set aside.
Cut the fish into bite-size pieces and place in a large bowl. Add prawns, cornichons, capers, and parsley. Stir in cheese sauce and then carefully transfer the fish mixture into a large ovenproof dish.
When potatoes are cooked, drain and allow to cool until cool enough to handle. Cut each potato into thick slices. Arrange over the fish mixture and sprinkle over the grated Applewood®.
Bake for 25-30 minutes until the fish is cooked and the top is golden brown.