Ilchester® Vegan Melting Mature Mummies
| | |
| --- | --- |
| makes 2 | prep: 30 mins   cook: 12 mins |
Ingredients:
1 x 320g ready roll puff pastry sheet – taken out of the fridge 20 minutes prior to use
300g tomato passata
200g Ilchester® Vegan Melting Mature grated
12 edible eyes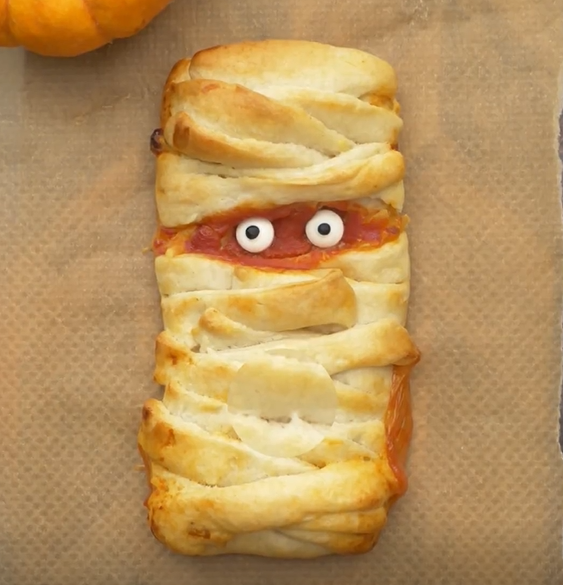 How to make
1. Preheat the oven to 180c, line a baking tray with baking paper.
2. Unroll the puff pastry and lay flay on a clean and dry surface. Taking a sharp knife carefully cut the sheet into 6 equal rectangles and place on the baking paper and tray.
3. Take the first section of pastry and lightly score all down the right-hand side leaving a 2 inch gap in the middle then do the same to the left hand side also.
4. Place 3 tablespoons of passata down the centre of the pastry and spread evenly.
5. Then sprinkle a large handful of grated Ilchester® Vegan melting mature on top of the passata.
6. Starting at the top, take the strands of cut pastry from each side and place gently across the filling, pulling slightly to ensure it covers the fillings.
Repeat until all strands have been used, leaving a small space near the top for more filling.
7. Place 1 tsp of passata in the small gap.
8. Brush the top of the pastry with plant milk and place in the oven for 12 minutes or until golden.
9. Once cooked remove and allow to cool slightly then place 2 edible eyes in the gap.
10. Ensure cool enough to handle before eating.