Heather's Applewood® Smoky Hash Jackets
| | |
| --- | --- |
| serves 1 | prep: 15 mins   cook: 1hr-1hr 30 mins |
Ingredients:
1 large baking potato, washed and pricked several times with a fork
40g Applewood® cheese, grated
1 knob of butter
Salt & pepper
60-70g corned beef, cut into small cubes h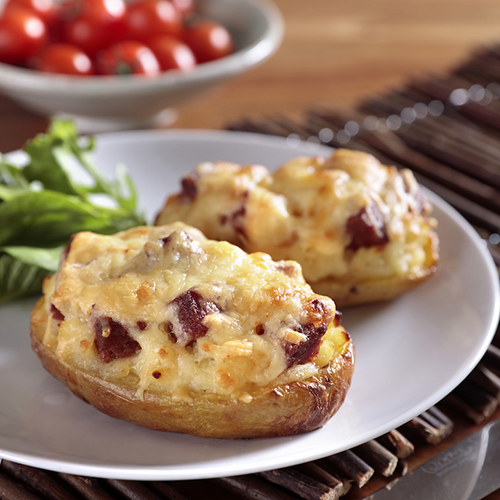 How to make
Preheat the oven to 200˚C, 180˚C fan, gas mark 6.
Bake the potato for 1hr – 1hr 20mins until tender. If you're time-pressed, ping your potato in the microwave for five minutes to soften it up, then finish in the oven for 35-40 minutes.
Cool enough to handle, then cut the baked potato in half. Use a spoon to scoop out the flesh and place in a small bowl.
Using a fork mask the potato flesh and add the butter, 30g of grated Applewood® and season to taste.
Stir in the cubed corn beef and pile the filling into the two potato skins.
Place on a baking sheet and sprinkle over the remaining grated Applewood®.
Pop the loaded skins back into the oven for 10 more minutes until the cheese is bubbling and golden and the filling is piping hot.